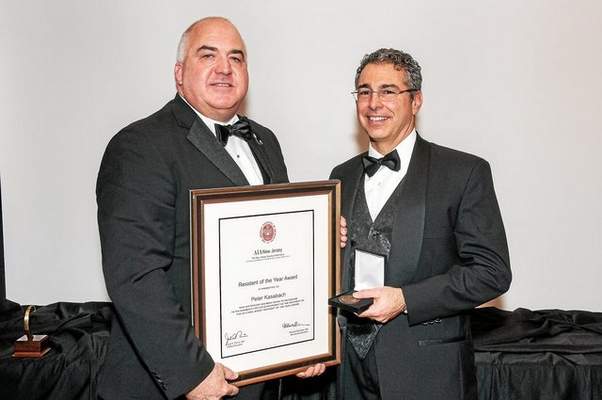 SHREWSBURY — The New Jersey chapter of the American Institute of Architects (AIA-NJ) is known for its dedication to elevating the profession of architecture and improving The Garden State's built environment. On Jan. 11, the organization recognized members and firms that demonstrated an exceptional commitment to the profession, local communities and the evolving built infrastructure in the post-Hurricane Sandy New Jersey in 2013.
Bestowed during the organization's awards gala at Shadowbrook in Shrewsbury, AIA-NJ's Service Awards are designed to honor the work of the state's most talented and forward-thinking architects and firms.
"Our Service Awards provide AIA-NJ's members with a much-deserved stage for their personal and professional endeavors," said Michael Hanrahan, AIA, who served as chair of AIA-NJ's Service Awards committee. "I'm proud to say that each of the winners have significantly advanced not only the architectural profession, but also the communities in which they live and work."
The recipients for the Service Awards were:
- Peter Kasabach of Trenton received the "Resident of the Year Award" for his commitment to smart growth as executive director of New Jersey Future, a non-profit organization dedicated to promoting responsible land-use policies. In addition to his efforts to curb suburban sprawl and promote walkability statewide, Kasabach is very active in the Trenton community. He previously chaired Artworks visual arts center, which created Art All Night, founded the Trenton Preservation Committee and coordinated the neighborhood-led South Broad Street Vision Plan.
- Joshua Zinder, AIA, founder of Joshua Zinder Architecture + Design in Princeton, earned the "Architect of the Year Award" for his wide-ranging work on high-end commercial, institutional, residential and sustainable architecture. As an active member of his community, he co-chairs and has been a board member for a number of not-for-profit organizations. Zinder is passionate about architecture and design from every angle, and applies his unique and worldly aesthetic to each of his environmentally conscious designs.
- KSS Architects, a full-service architecture, planning, and interior design firm in Princeton, and Philadelphia, Pa., received "Architectural Firm of the Year Award" for its design and leadership on behalf of clients in the fields of education, culture, land development, urban development, and corporate environments. In the firm's 30th year, KSS continues to capitalize on its extensive history of intensive listening, deep research, collaborative partnership and fearless reimagining of what places can be. Additionally, by adapting and employing innovation in building information modeling (BIM) tools, and by incorporating appropriate advances in sustainability, KSS has created meaningful change through architecture for clients such as The City of Newark, Drew University and Burlington Coat Factory. The firm and its staff have dedicated charitable time and resources to the ACE Mentor Program, Habitat for Humanity, AIA chapters and Hurricane Sandy relief. KSS has also established a scholarship at NJIT to be awarded to a first-year architectural student demonstrating exceptional creativity in design in an urban environment.
- Victoria Pivovarnick of Princeton, took home the "Intern Architect of the Year Award." She was recognized for her accomplishments in the six years she has spent at KSS Architects, including her grasp of technical knowledge, organizational skills and innate understanding of client needs. While at KSS, she has also developed protocol documents for the use of Newforma, a construction management program, and has become the 'go to person' for code, LEED, and construction questions.
- Kurt M. Kalafsky, AIA, of Howell, received the "Distinguished Service Award" for his 30-plus years of dedication to the architectural profession. He has previously served in several other AIA-NJ positions, including second vice president, secretary and chair of the By-Laws and the Codes and Standards committees and National Resolutions Committee. In these roles, he has run several successful events including multiple code seminars, last year's grassroots dinner in Washington, D.C., the fellow's reception at the Denver Convention and the 2013 AIA-NJ Leadership Conference. This year, he was installed as the new president of AIA-NJ. Additionally, Kalafsky serves on the Executive Board of the Monmouth Council Boy Scouts of America and the Executive Committee of the Industrial and Office Real Estate Brokers Association, coached multiple youth sports programs and served on NAIOP's Community Action Committee to build parks in needy areas.